A Right To Not Be Bullied
This article was published originally for Anti-Bullying Week 2018 when Meic ran a  weeklong bullying campaign with articles and videos. Check out links to our other articles at the bottom of this article as they appear during the week. 
I ddarllen yr erthygl hon yn Gymraeg, clicia yma.
I'm sure that you're aware that you have rights as a young person, but how much do you know about them? We're going to take a look at how your rights can help protect you from bullying in celebration of Anti Bullying Week 2018.
---
If you're not aware of your rights let me tell you about them quickly. There's this thing called the United Nations Convention on the Rights of the Child (UNCRC) and this has 42 rights for children and young people up to 18 years old from all over the world. Rights are there to protect you. They provide the things you need to survive and develop and  have a say on the things that affect you. Wales has made the UNCRC a part of its law. This means that everyone has to do things to protect your rights.
Your Rights
Rather than one right protecting you from bullying, there are lots of different rights. When these are put together they work to protect you from bullying, ensuring that people have to act on it. Rather than making you go through all 54 articles of the UNCRC, we've listed below the rights that are relevant when talking about bullying:
All children and young people have a right to be protected from discrimination of any kind including race, colour, sex, language, religion or disability (Article 2)
Everyone that works with children and young people should always do what is best for each child (Article 3)
The Government has a duty to make sure that these rights are available to all children (Article 4)
A right to:
– life and to grow up to be healthy (Article 6)
– have information (Article 13)
– follow your own religion (Article 14)
– meet with friends and join groups and clubs (Article 15)
– have privacy (Article 16)
– learn and go to school (Article 28)
– become the best that you can be (Article 29)
– to use your own language (Article 30)
– relax and play(Article 31)
What does this mean?
All this means that there are lots of rights out there to protect you if you're being bullied. Your school should be sticking to the government standards of care for your safety. They should be supporting and protecting you so that you are not discriminated against and that all your rights above are protected.
There are lots of laws in the UK that will protect you from bullying. Any violence, assault, theft, repeated harassment or intimidation and hate crimes are illegal. These can be reported to the police. In Wales someone can be charged with a crime from the age of 10 and a crime is a crime, wherever it happens, in school or outside of school.
Bullying in school
All schools are required by law to have an anti-bullying policy in place, which you can request to see (it may already be on the school's website). Schools also have to adhere to anti-discrimination laws, which means that all staff have to act when it comes to discrimination.
The Welsh Government has given schools legally binding instructions on what actions they have to take regarding bullying. Every teacher has to stick to these instructions in order to protect your wellbeing:
Every learner in every school has the right to learn, free from the fear of bullying, whatever form that bullying may take. Everyone involved in a learner's education needs to work together to ensure that this is the case. Schools need to take an active approach to tackle all forms of bullying, and should be taking action to prevent bullying behaviour as well as responding to incidents when they occur – Respecting Others: Anti-bullying Overview 2011
Schools have to have policies in place to prevent and deal with bullying, and to fulfil their legal responsibilities – which include protecting your rights. Teachers have to take it seriously, have to listen to you and must take action to protect you.
Call Meic
If bullying is worrying you and you need to talk to someone about it then you can call us here at Meic (or text or IM). Our friendly advisers are here to help and guide you to places that can help you.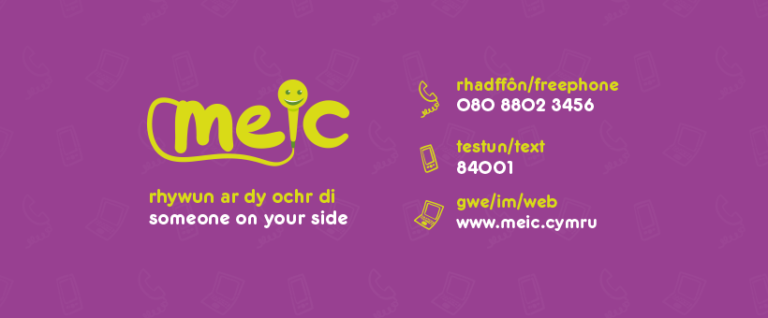 Meic is an information and advocacy helpline for children and young people aged 0-25 in Wales. We are open 8am to midnight, 7 days a week. You can contact us free on the phone (080880 23456), text message (84001) or online chat.
Meic Anti-Bullying Week Campaign: