A Message Of Peace And Goodwill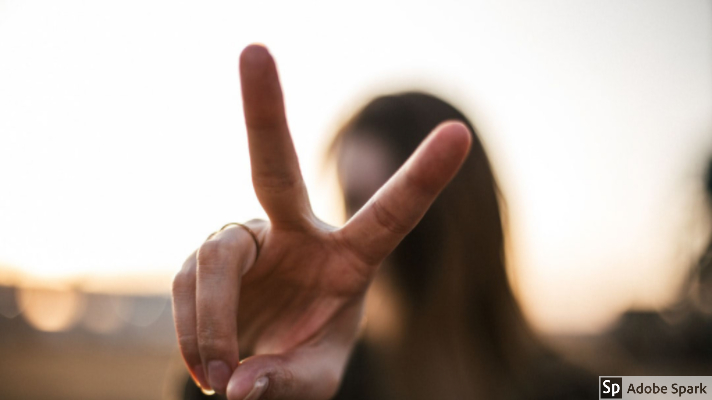 Today, on the 18th of May, Urdd Gobaith Cymru, the Welsh youth movement, shares a message of Peace and Goodwill to unite the children of the world. The Urdd have been sharing a new message written by the young people of Wales on this date every year since 1955.
---
It all began in 1922 when the children of Wales wrote the first Message of Peace and Goodwill. Reverend Gwilym Davies from Cwm Rhymni broadcast this first message to the world through Morse code in order to unite children across the globe. The message that year read:
A wish, following drastic losses in WW1, that "there will be no need for any of us, as we grow older, to show our pride for the country in which we were born by going out to hate and to kill one another.
Sharing the message
For nearly a century, thousands of young people have been part of forming, sharing and responding to this message of peace. The message was broadcast for the first time on the BBC World Service in 1924. Today it is translated into multiple languages and widely shared across the world. It is meant to inspire children and young people to create a world they would love to grow up in.
This message has become an inspiration for the humanitarian and international work of Urdd Gobaith Cymru, who took over responsibility of sharing the message annually, with the aim of promoting the use of the Welsh Language. The 18th of May is significant as the date of the first peace conference in The Hague in 1899.
This year's message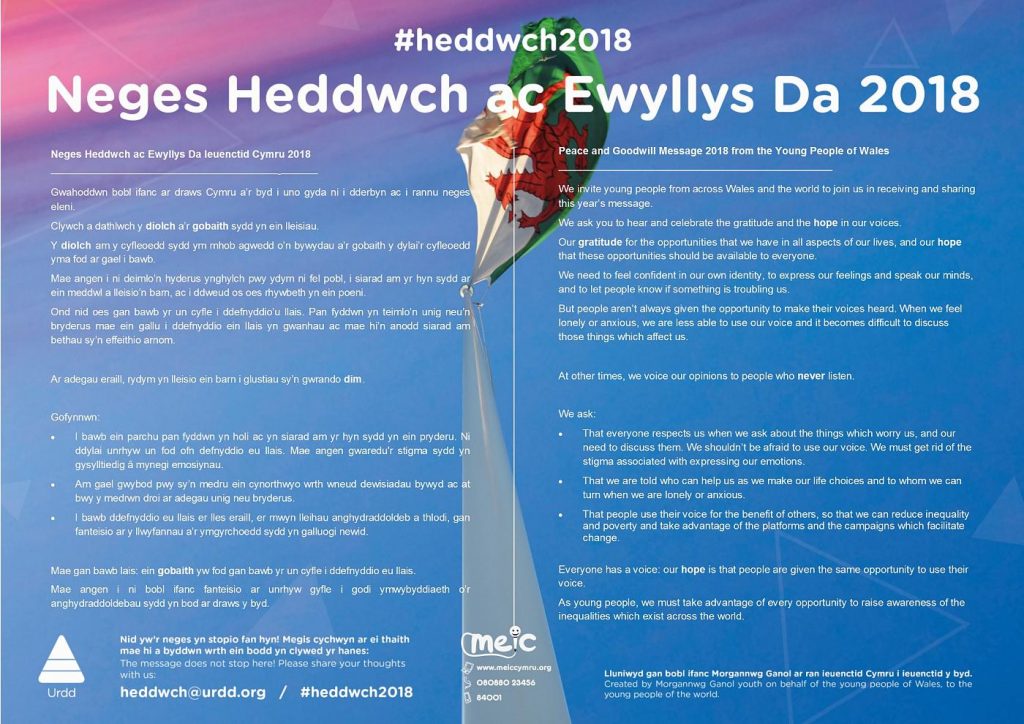 The young people of Mid Glamorgan produced the message for 2018. The Meic helpline is proudly supporting the campaign this year. This year's message gives thanks to the opportunities available to young people. It emphasises the need to listen to the voices of young people, and for them to feel able to discuss and overcome problems.
On 18 May, an international work camp is taking place in Cardiff. They will be spreading the 2018 message online through social media platforms to encourage global responses. There's much excitement and anticipation around this year's message. We look forward to young people worldwide helping us spread the message and stand up for a better world.
Help us to share the Peace and Goodwill Message across the world. Follow the Message on Twitter #heddwch2018
Call Meic
If there's anything worrying you then Meic can help. Contact them today to talk to a friendly advisor.

Meic is an information and advocacy helpline for children and young people aged 0-25 in Wales. We are open 8am to midnight, 7 days a week. You can contact us free on the phone (080880 23456), text message (84001) or online chat.