Advice For Under 18's If You Can't Stay At Home

Sharing a home when relationships are under strain can be really difficult under normal circumstances, but especially so during this period of lockdown. In this article we take a look at what to do if you can't stay at home, or it's not safe for you to do so if you're under 18.
This is part 2 of 3 in a series of articles looking at housing and relationships during Covid-19. Part 1 has tips on how to get on with the people you live with, and Part 3 looks at what to do when you can't live at home for over 18's.

———

I ddarllen yr erthygl hon yn Gymraeg, clicia yma

To see more of our Covid-19 related content, click here
If what you're experiencing is over and above what is normal or acceptable, such as continual arguing, excessive unkindness or even abusive behaviour, you might be thinking about what you can do to get help or to change your situation.
The current lockdown means that there are fewer options in terms of changing where you live but you can start to find out what help might be available if you feel that this is something that needs to happen. The support available will depend upon your age and current circumstances. If you're under 18 and experiencing harm by someone you live with, you can get help from the following services and helplines:
Children's Services
Run by local councils and staffed by social workers. They have a special phone number where you (or someone else on your behalf) can contact to let them know what's happening at home. Children's Services have to respond to reports of harm or abuse to children or young people. They'll usually talk to you and the people you live with to help find ways of making things better. If they don't think that you're safe to remain at home, they might look into whether a family member could help to look after you. If that's not possible, they might find a foster home where you can stay until it is safe for you to return home, or until you're old enough to live independently. Contact your local council for the number.
Housing Options (if you are 16 or 17)
Local housing departments and Children's Services have to help 16 and 17 year olds at risk of becoming homeless. Contact your local council for the number.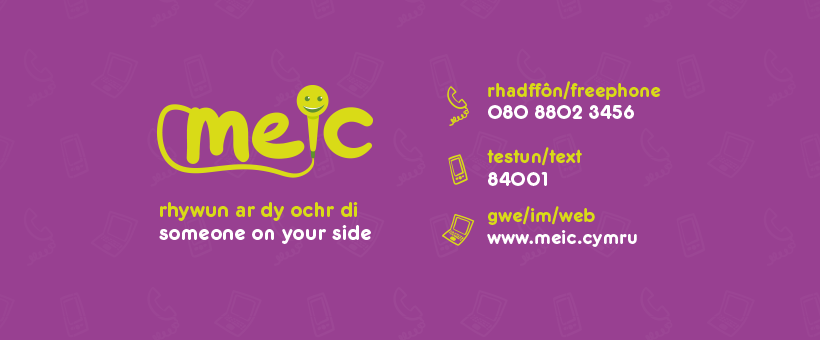 Meic
Meic is a bilingual helpline for children and young people up to the age of 25 in Wales. You can contact our advisors if you want to talk about something that's happening at home that's causing you to be unhappy. Meic is confidential but if you tell us something that makes us worry about your safety then we would need to tell Children's Services (see above). If we believe you're in immediate danger we would need to call the police as we have a responsibility to help keep you safe.
Call: 080 880 23456 Text: 84001 Chat Online: www.meic.cymru
Childline
Childline is a UK wide helpline that can help if you're experiencing harm.
Call: 0800 1111
Police
If you are worried about your safety and you're in immediate danger of harm or abuse then call the Police on 999. They will visit your home if they think you are in danger. They'll also tell Children's Services if they've been to your home.
Be patient
Unless your housing situation is seen as an emergency that requires immediate action, it's unlikely that you'll be able to change where you live as quickly as you might want to. It can take weeks, sometimes even months for Children's and/or Housing Services to find out all the information they need to make a decision about what needs to happen next.
While you're waiting to meet with them, why not use this time to prepare for meetings or interviews:
Write a statement about what has made you unhappy at home –include a summary or details of any harm or abuse
If you're over 16 you'll be asked for proof of ID so get these ready. They could be a birth certificate; passport; driver's license; medical card; bank statement with your address on
If you're 16 or over and looking for help because of a breakdown in your relationship with your parents or carers, try to get a letter from them confirming this – if it is safe for you to do so
The above information is for children and young people under 18. If you're over 18 check out our advice for you:
If things are not as bad as the situation outlined above, and you just need advice on how to get on better with the people you're living with then check out this article: